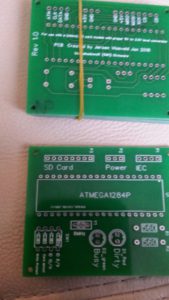 2 weeks ago I designed a PCB for my SD2IEC.
Last Friday I received them in my mailbox.
I took the schematics of ShadowWolf and used the online design tools on www.easyeda.com to draw the schematics and design the PCB.
The result is found here and I ordered an prototype ($10,- with shipping).
The SD2IEC uses a micro SD module with build in voltage converter.
The only signals missing from the SD module are Card_Detect and Write_Protect.
I routed those signals to a dip switch so I can still control these signals.
The Card_Detect signal is also routed to the SD module header, so I can modify the SD module to add this signal.
If this proto type works, I will be updating the PCB with RTC and LCD, and will move the micro SD to the main PCB.