8501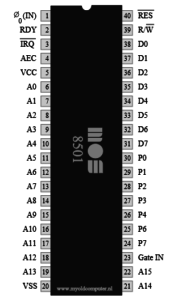 Alternate partnumbers:
Function:
CPU with 7 Bit data port, this is a modified 6510 CPU with a 7 pin I/O port, the I/O port is used for Tape/Serial I/O.
The 8501 chip is mainly used in the Commodore 264 family computers.
Common problem with this CPU is overheating, a heat sink is recommended to ensure longer life of the CPU.
Used in:
Commodore 16, Plus4 and Commodore 116
Datasheets: