250466 (B3)
Only 2 RAM chips, U9, U10.
PCB Assembly Number 250466.
Schematic Number 252278.
In 1986, Commodore released the last revision to the classic C64 motherboard. It was otherwise identical to the 1984 design, except for the two 64 kilobit × 4 bit DRAM chips that replaced the original eight 64 kilobit × 1 bit ICs.
After the release of the C64C, MOS Technology began to reconfigure the C64's chipset to use HMOS production technology. The main benefit of using HMOS was that it required less current to drive the IC, which consequently generates less heat. This enhanced the overall reliability of the SID and VIC-II. The new chipset was renumbered to 85xx to reflect the change to HMOS.
The modifications to the C64 line were more than skin deep in the C64C with new versions of the SID chips being deployed—with the core voltage reduced from 12 V to 9 V, and the VIC using only 5V. The I/O chips remained functionally identical but the new 8521 which uses HMOS technology uses about half the power of the original NMOS 6526. The basic and kernal 2364 ROMs were also replaced with a single 23128 ROM.
Integrated Circuits

| PCB Identifier | Chip Number | Remarks | Memory Location/bit |
| --- | --- | --- | --- |
| U1 | 6526 | CIA 1 | $DC00-$DCFF |
| U2 | 6526 | CIA 2 | $DD00-$DDFF |
| U3 | 2364 | Basic ROM | $A000-$BFFF |
| U4 | 2364 | Kernal ROM | $E000-$FFFF |
| U5 | 2332 | Character ROM | $D000-$DFFF |
| U6 | 2114L-30 | SRAM 1Kx4 | $D800-$DBFF |
| U7 | 6510 | CPU | |
| U8 | 7406 | Logic NOT (Hex Inverter) | |
| U9 | 41464 | DRAM 64Kx4 | D4..D7 |
| U10 | 41464 | DRAM 64Kx4 | D0..D3 |
| U13 | 74LS257 | Multiplexor | |
| U14 | 74LS258 | Multiplexor | |
| U15 | 74LS139 | Demultiplexor | |
| U16 | 4066 | Quad Bilateral Switch | |
| U17 | 82S100 / 906114-01 | PLA | |
| U18 | 6581 | SID | $D400-$D7FF |
| U19 | 6567 (NTSC)/6569 (PAL) | VIC-II | $D000-$D3FF |
| U20 | LM556 | Dual Timer | |
| U25 | 74LS257 | Multiplexor | |
| U26 | 74LS373 | 8 bit 3-state Latch | |
| U28 | 4066 | Quad Bilateral Switch | |
| U31 | 7701/8701 | Oscillator | |
Schematics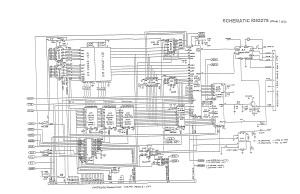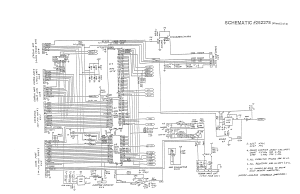 Board Image