External Gotek drive emulator
This is why I wanted the Boot selector.
I received the Gotek drive emulator some days ago, and modified it so it can be used on the Amiga.
As I hope to receive another Amiga Soon I didn't want to built it into the Amiga as the default internal drive.
Moving the Gotek into a external drive, I can boot from it using the bootselector as it were the internal drive.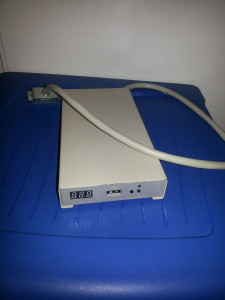 To modify the Gotek drive you can use the procedure described at: Cortex Amiga Floppy Emulator
The only issue I had was the USB to RS232 (TTL) converter.
It used an non genuine TFDI chip.
On modern windows systems, the new TFDI driver changes the Product ID of the chip, disabling the option to communicate.
I had to reprogram the chip with the correct Product ID and used and old Vista system to do the programming.