The XUM1541 allows you to connect a Commodore drive to your PC and copy files between the PC and a Commodore disc drive.
Creating and writing disc image is also possible.
The main part of this project is the Arduino ProMicro board that can be found for around $4.50 on ebay.
To program the Arduino you will need avrdude and the project hex (xum1541-PROMICRO-v07.hex) file from project github page.
Now connect the Arduino to you PC and run the following command (press the reset button of the Arduino just before you run the command to enter the programming mode):
avrdude -p m32u4 -c avr109 -P comXX -U flash:w:xum1541-PROMICRO-v07.hex
Change comXX to the correct com port that the Arduino uses.
After everything went well, you should see the XUM1541 in your device manager.
Connect the Arduino to a drive.
only red serial connections and a ground are needed.
The green parallel connections are used for nibbler support and require modification to the drive.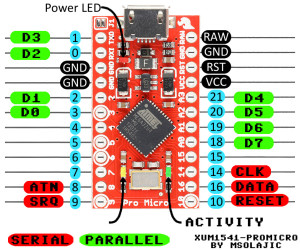 The Pinout of the IEC serial bus is as follows:

After the drive is connected you can use OPENCBM or CBMXfer (don't forget to copy the OPENCBM files in the same directory as the CBMXfer folder) to transfer data.
Please make sure you use a 32-bit windows version, else it just fail as the drivers are not signed.
I placed my XUM1541 in a case like shown below.