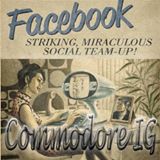 This Saturday I went to the Dutch Commodore club in Maarsen.
It was about 6 years ago that I visited the club for a very short visit.
I met a lot of people with the same interest as me, and had several good conversations.
On the club I noticed that Gideon (the creator of the 1541 Ultimate) was there with the prototype of the new 1541 Ultimate II+.
and a very interesting kernal selector based on a Atmel cpld chip.
The Commodore club is a place where other 8-bit computers like Atari and TRS-80.
If you are in the Netherlands on the third Saturday in the neighborhood of Maarsen (near Utrecht), it will be worth visiting their meeting.