last Saturday 17 February it was again the 2 monthly meeting of the Commodore HCC club.
on these meetings not only Commodore fans are comming, but also other retro computer fans join.
You will find MSX, Atari and other systems here.
I had a "little" gift to the guy that is starting a computer museum, a Toshiba hard disk from 1980.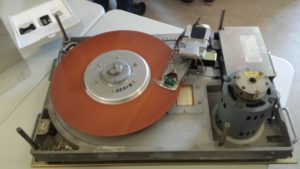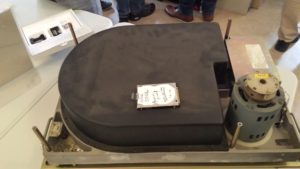 I have no clue what capacity it had, but guessing it will be around 5 to 10 MB.
The little 2.5″ pata hd on top is from Jan Derogee (the creator of the Cassiopei and 1541-III). he was sitting in opposite of me.
My collection also grew a little with a oceanic drive, c64 test set, some books and DD floppies and an Amiga 500.
The Amiga has a broken drive and the case is not very nice, but I will use the keyboard to fix my Amiga 500+.
The main board will be stored for spare parts, or for testing purpose.
Visit the Facebook page of the Commodore HCC club to learn more about the meetings