I don't own a monitor for my Amiga, so I wanted to connect her to a VGA (lcd) monitor/TV.
I tried several way to get this done, but so far I didn't got it to work.
Only the composite output of the Amiga was working, but I wanted to have a color image.
So I tried a Amiga to scart cable, but my TV didn't accept the signal.
Next I tried a Amiga to VGA cable, but this also didn't work (none of my LCD monitors accepts a 15 kHz video signal.
I looked for another lcd, but I couldn't find one, so I ordered a GBS8200 video converter on ebay and created a simple Amiga to VGA cable that I could hook up to the GBS8200, The GBS8200 then is connected to a VGA monitor.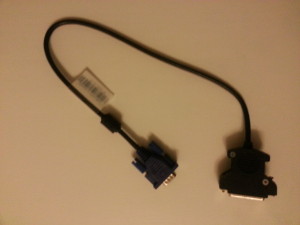 For the cable I took an old VGA cable and cut it in halve.
Then I connected the R,G,B,C-sync and GNG to the 23-pin Amiga video connector.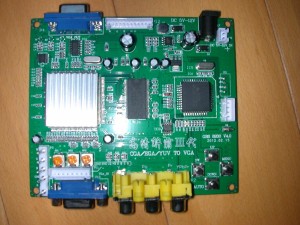 This gave me a reasonable image on my lcd monitor.
Only I had some random white pixels on my screen.
I found on the internet that this had to do with the speed of the dram chip used on the GBS8200.
Maybe I will fix it later, but for now I'm happy.