Today I fixed the Amiga that was smoking.
Last week al parts arrived so I could fix her.
The capacitors are for a higher voltage and therefore a little bigger that the ones I removed.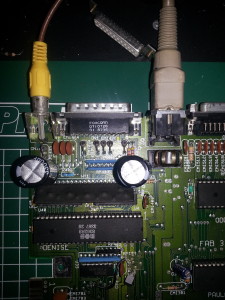 After fixing I turned on the Amiga and she gave the kickstart boot image again.
In the top of the picture you can see the connector of my Amiga to scart cable.
But my TV is not accepting this input so I'm still stuck with a gray scale image on my TV.
I also received a GBS8200 board last week, so I can start building another Amiga -> GBS8200 -> VGA adapter.
I will create a post about this, when done