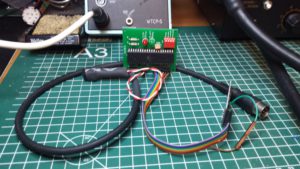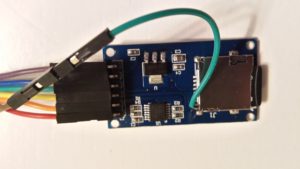 Last week I managed to complete my SD2IEC.
The PCB I created contained some little faults.
The silkscreen of the LEDs was wrongly positioned, and the DATA and CLOCK label of the serial port were swapped.
So I fixed the issues by swapping back the labels, and selecting a correct package for the LEDs (fault was in the component library).
The fixed version can be found on easyeda.com
I tried to program the AVR with AVRdude, but only got an error back (some sync error).
So finally I took my old STK500 development board, and downloaded AVRStudio from Microchip.
With this I could program the MCU and after hooking up the SD2IEC to my C64, I could access it like a drive.
(I uploaded the SW1 bootloader for the M1284P with the following High:0x92, Low:0xEF and Extended:0xFD)
On the 2nd photo you see a modification of the mico SD module.
the module didn't have the card detect signal on it's pins, so I wired a wire for this signal.
the card detect can also be controlled by the dip switches.
another signal that is not pressent is the write protect signal.
Micro SD cards don't have this, so this is also handled by the dip switch.