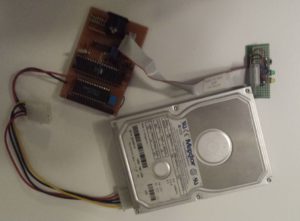 Yesterday I found an old project I made several years ago.
It's a IECATA an ide interface for the commodore computers with the iec connector like the VIC20 and C64.
It's based on a microprocessor and some memory.
The system lets you use the default commands to load and save files to an ide harddisk.
Later some other sites like www.dienstagstreff.de and 8bit.yarek.pl picked up the idea and made new versions of this project.